I created this post in return to those people who helped me in my K3 visa processing plus I got messages from people asking on how I assembled my papers in order. Here is a vid of how I did it. ENJOY!! :)
PICTURES
- We have tons of pictures together in a nice album but the thing is, I have heard from the previous interviewees that the Pre-screener's and the Consulate's windows are small, so what I did was I pasted mine in bond papers and I wrote caption in each picture plus I also put pics in a small album (the ones that is free from the photo service whenever you'll print pics from them). This is how it looks like.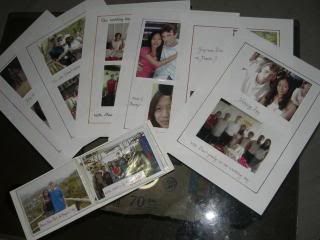 CHAT CONVERSATIONS
- Hubby and I have been chatting since 2005 and so we have LOTS of chat logs.What I did was I only printed 2 chat logs per month since i can not print all those tons of conversation hehe.Our conversation per day ranges from 20 up to 27 pages (if you'll transfer the chat logs in MS WORD).Since i am saving ink and paper, what i did is i smaller the font and put 2 columns :D I also did screenshots of our conversations per month (in case they want to see if we chat daily).
EMAILS
- We seldom email each other since we chat everyday so I only printed out whatever we have hehe.
SNAIL MAILS
- Like emails, we seldom send snail mails to each other. I only send him cards if there is a special occasion (anniversaries, birthdays and such).
PHONE CONVERSATIONS
- I use PLDT Phone cards since it is the cheapest way i know on how to call my hubby in the US and on the other hand, he is using AT&T in calling me. He kept all his monthly phone bills as we know that it can testify to the Consulate that he calls me everyday (it appears to his monthly bill on how many times and how long he called me on my cellphone).
MONEY TRANSFER
- He used Western Union in sending me money for my monthly allowance. Yes, it is expensive but fast and reliable. We don't have any complains to their service except for the high service fee hehe.
TAX TRANSCRIPTS
- He requested 2006 and 2007 Tax transcripts from IRS (1-800-829-1040). He got it 11 days after he phoned them and he didn't pay any single cent for it.
W2
- He got it from his employer.
SALARY PAY STUB
- He sent me his last 3 pay stubs :)
AFFIDAVIT OF SUPPORT
- He fill out the form I-134 and notarized it from his bank and it was free of charge :)
My advice is NOT to fastener or use sliding folder in compiling your docus as you'll have a hard time taking them off once the pre-screener and the consulate asked for the papers one-by-one.